Long awaited by fans Sony Pictures has announced an early 2015 start for production of the next Ghostbuster movie.
Click here for the full article.
Back in the 1989 neo industrial design partners Jon and Heather, another Melbourne industrial designer Kevin Mooney and model maker John Bibby built a replica Ghost Buster ECTO 1A car for Greater Union; to travel around Australia promoting the release of the sequel Ghostbusters II movie.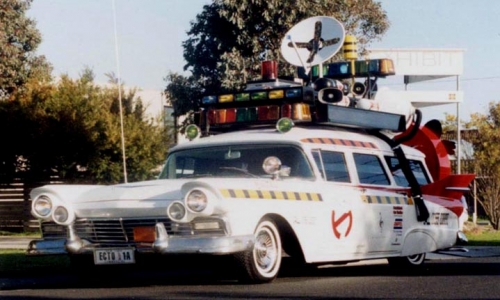 We have often wondered what happened to the car, it was well detailed and built quick in only three weeks and though not intended to last was based on a heavily modified but solid 57 Ford Ranch Wagon – 350 cubic inch two-speed auto, bench seats, no seat belts and rolled like a ship.
First corner I put it around I ended up on the passenger side – how did people ever drive those things?
Who ya gonna call ?